You can find this review of To All the Boys I've Loved Before by Jenny Han with an additional brief discussion of spoilers here.
TW: Death, parental loss, injury, relationship problems, slut-shaming, rumours, food, mentions of feeling sick, kissing, mentions of sex
I baked frigging– can you believe it– cookies because of this book. I burnt them, because, of course, but! I'm! not! even! mad! (Reason #1. to read this book: there are cookie recipes at the end!!!)
Remember those Chicken Soup for the Soul anthologies? TATBILB essentially produces the warm fuzzy feeling Chicken Soup aimed to create, but actually succeeds. Sorry Chicken Soup, but I CRIED as a wee child because of one of your anthologies. That is not a pleasant chicken soup feeling! (Reason #2. to read this book: it's a feel-good story.)
This book follows Lara Jean Song Covey, who has loved 5 people in her lifetime. When her feelings go unreciprocated or become overwhelming, she writes an intense love letter to her crush, which she UNDER NO CIRCUMSTANCES ACTUALLY MAILS BECAUSE HELLO. Essentially, these letters allow her to move on and refocus on stuff important to her. One day, some evil being sends all 5 of the letters out, causing Lara Jean to do the obvious thing: move to another country, change her name, and live out the rest of her days as a hermit. Despite this being the best option, Lara Jean decides to get involved in a fake relationship. It makes sense once you read the book, okay? (Reason #3 to read this book: the fake dating trope ya'll!)
Stuff I Liked/Appreciated About TATBILB:
• Dr. Covey! I really appreciated how he tried to maintain a connection to the girls' Korean heritage
• There are 3 Song sisters, and they have a close relationship with one another, which you hardly ever see for some reason
• The Song sisters are biracial (Korean/white)
• So hello I'm white and I want to remind other white people that POC face struggles during Halloween we don't, and this book and Jenny Han acknowledge that which is so great I cry
• I love me some descriptions of food, and this book delivers
• Lara Jean reads romance
• Chris dear god marry me please
There's even a movie adaption of To All the Boys I've Loved Before on Netflix. Netflix loved the book TATBILB and you might too! (You'll probably like the movie regardless of your thoughts on the book. Everyone likes the movie.)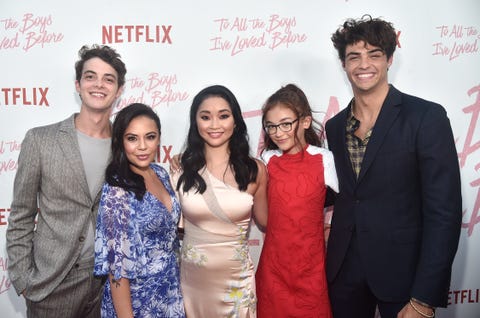 Honestly, I'm going to spill the tea and say I didn't really like Peter that much. Blasphemy, I know, but he's really not all that.
The Bottom Line: To All the Boys I've Loved Before is a fluffy masterpiece. Pair it with cookies and the song I've Got a Feeling I'm Falling by Annette Hanshaw, and you have a recipe for a great weekend!
Always and Forever,
Loerkülæf
P.S. I still love you